Fine Art of Producing Fine Art
Yaacov Agam, born in Israel in 1928, was the son of a rabbi and it is felt that his early immersion into Jewish studies greatly influenced his artwork.  Agam's later fascination with movement was initially inspired by the shifting sands in the deserts of Israel where he was raised.
Agam would become known as the "Father of Kinetic Art" for his interest in inserting movement into the artwork that he created.  The edition done on mirror described below is a way of creating the impression of change on a flat plane because the reflection creates an illusion of movement.
The photos were taken during the printing and signing of Agam's epic work known as "Environmental Space", a limited edition serigraph of 99 pieces, plus artist and printer's proofs.  The printing of this piece required the screen printing of 78 colors, each laid down one-at-at-time with precision onto heavy mirrors.  Agam had carefully chosen each of these colors in order to create the movement and color sense that is so important to him.  Each plate glass mirror was 21 x 31 inches and the mirror was a full one-quarter inch thick.  Individual mirrors are framed with a thin silver frame before it is offered to museums and collectors.  This white metallic choice of a frame enhances the mirror and makes it appear to be continued into the margin rather than "framed in" by a typical frame.
"Environmental Space" was printed by a fine art printer in Baltimore, Maryland USA, an atelier named Zimmerman Editions, Ltd., a company that Agam chose as his North American printer.  His other printing was done in Paris, France where he eventually had moved from Israel.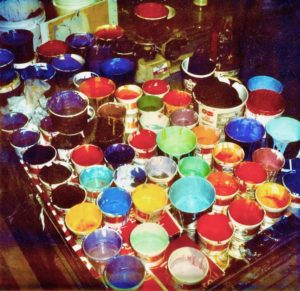 Some photos were taken as "Environmental Space" was coming off the press, being hand inspected with the printing of each color.  The employee pictured was the ink matching expert who carefully monitored the mirror to make sure the exact color guidelines were being followed.
A special printing process was used to apply Yaacov Agam's selected colors to the surface of the mirrors.  Called 'Ultra-Violet Serigraphy', each color was applied—one at a time—through a special 'silk screen and light-curing process'.  After the ink was applied to the mirror, the mirror traveled down a small conveyor and through a chamber filled with a pure nitrogen atmosphere.  And in that chamber, the mirror becomes 'bombarded' with intense ultra-violet light.  The light changes the liquid ink to a solid (a technical process called polymerization) and the design becomes 'fixed' (adhered) permanently onto the glass surface.  The reason for the nitrogen atmosphere is to avoid the creation of toxic carbon dioxide from any oxygen that would be otherwise present.
Another photo shows Agam hand signing each piece, in our printing company in Baltimore.  The master printer is the man looking on while Agam does his signing.
It was always so exciting to have Yaacov Agam visit Zimmerman Editions while one of his editions was being produced.  He often spent hours examining the artwork, making changes, and recommendations, and of course the presence of such art world royalty was always so highly anticipated.  When he would come to sign, everything had to be arranged for his comfort, as it was a long process to carefully sign a name over a hundred times on a mirror surface.  And of course, the counting had to be strictly observed.  Agam required the right pens, the right height stool, and of course, he always appreciated an audience for the event.
Contact Zimmerman Fine Art Today!
Since 1979 Zimmerman Editions Ltd. has worked closely with many internationally acclaimed artists to execute editions of their most unique images. Collaborating directly with the artists, Zimmerman Editions' atelier has printed, fabricated, and published many special limited editions of fine art … including both prints and sculptures. All images have been faithfully produced to meet the artists' most exacting requirements. Many of these high quality art prints and objets d'art are represented in public and private collections around the world.
If you are a fine art dealer or marketer, or interested in collecting contemporary fine art, contact us today through our short form or our number at 888-464-1850. For more about fine art, keep in touch through Facebook, Twitter, and LinkedIn!