Who We Are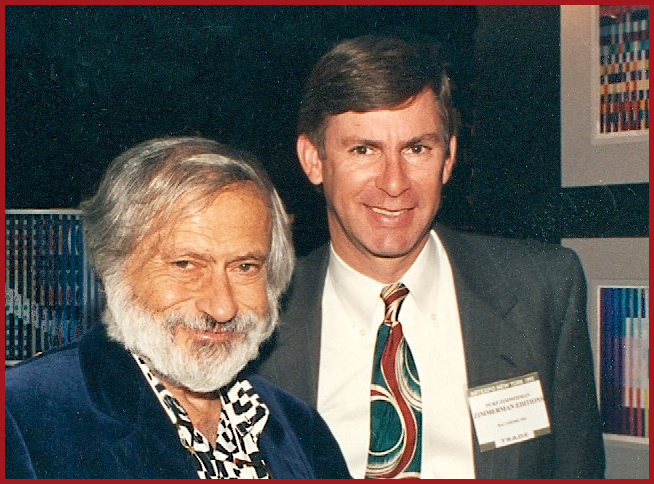 Yaacov Agam and Duke Zimmerman, Zimmerman Editions
Since 1979 Zimmerman Editions Ltd. has worked closely with many internationally acclaimed artists to execute editions of their most unique images. Collaborating directly with the artists, Zimmerman Editions' atelier has printed, fabricated, and published many special limited editions of fine art … including both prints and sculptures. All images have been faithfully produced to meet the artists' most exacting requirements. Many of these high quality art prints and objets d'art are represented in public and private collections around the world.
After 25 years of marketing only to museums, galleries and other fine art publishers, Zimmerman Editions Ltd. has now made its acquired inventory–the best of the best--available directly to collectors and investors, as well as through our conventional channels.

Zimmerman Editions, Ltd. has been printing and publishing for nationally renowned and internationally acclaimed artists to print and publish their works for four family generations of fine printmakers. Printing fine art limited editions of serigraphs, giclées, serigraphic sculptures, fine art posters, and other fine art works for museums, art publishers, galleries, corporate collections, and individual artists, Zimmerman Editions has had the privilege of working with talented artists around the world.
In this very dated photo below, check out the early years of  Zimmerman Editions.  The man in the bright red jacket is Leon Zimmerman (beloved grandfather to your Webmaster), the good looking guy in the gray jacket is Duke Zimmerman (business partner of many years, and devoted father to your Webmaster), and the cute, though slightly awkward looking nine year kid in the red shirt is me,  Lori Zimmerman, Webmaster of the Zimmerman Editions website.  No longer Zimmerman, I am now Lori Gale.  Oh yeah, and the seated man in the picture is the very talented artist, Len Janklow,
signing posters of his prints in our booth at the  NY Art Expo, 1980.