Tom Miller
Click to View Tom Miller Limited Edition Serigraphs    Click to View Tom Miller's Fine Art Posters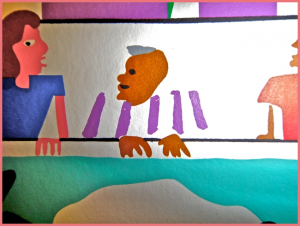 Tom Miller was born in 1945 in Baltimore. After attending a vocational high school he won a scholarship to the Maryland Institute, College of Art (MICA). After college, he worked for 20 years as an art teacher in city public schools. In 1987, he left teaching and returned to MICA to earn his graduate degree. From then on, Miller was a full-time artist. Since then, he refined his "bold, graphic style" and dense patterning, which were first manifested in his two-dimensional work. He has also developed an iconography that is characterized by whimsy, visual punning, and trompe l'oeil effects. He specialized in bright colors and wonderful animated images, and his wonderful sense of humor allowed him to make social statements through his joyful work.
Miller has had artworks commissioned by the National Aquarium in Baltimore, had many one-man museum shows including at the highly regarded Baltimore Museum of Art and has become a nationally known artist. Although most widely known for his colorful painted furniture, Zimmerman Editions Ltd. serigraphed all three of his fine art limited editions for him in the 90's. Tom Miller was diagnosed with AIDS in 1989 and friends say he was determined to work through the disease, never losing his sense of humor and his kind gentle nature. He died from AIDS complications in 2000.
Tom Miller's Obituary in the Baltimore Sun newspaper.

If you would to inquire about Zimmerman Fine Art, please send us an email today!